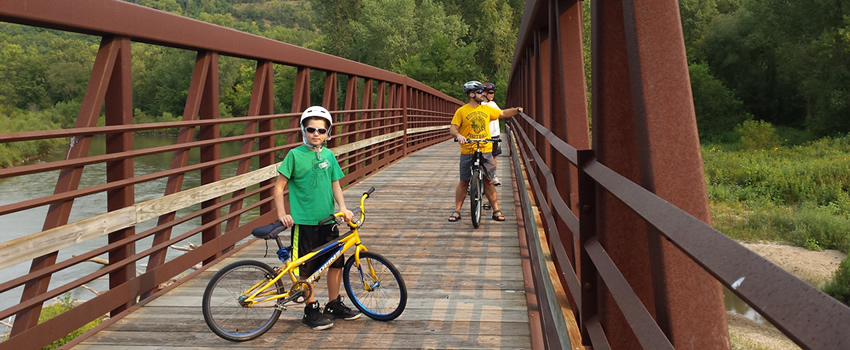 A popular spot for users of the Root River Trail System.

The trail intersects the town's main street making it easy to find our business area! Delicious breakfasts. lunches, and pie are available from Burdey's Cafe. Or, stop for lunch or dinner during the warm weather months at The Driftless Trading Post, where you can also rent a tube or kayak to float the Root River.  Rest at our Peterson Station Museum/Visitor Center. Shop  Turned Write Handcrafted Art for unique gifts. Enjoy an afternoon or evening at the Peterson Legion.
The Root River also intersects the town's main street, making it convenient to participate in water sports. Rent canoes, tubes, or kayaks from The Driftless Trading Post, and they will provide transportation to river landings. Watch for trout and eagles and hundreds of birds seen while on our normally peaceful river!
Our rural community, surrounded by bluffs and farmland, boasts an inn and a hotel with suites, both near the trail and river! The city also offers a small, quiet campground in a huge park next to the trail. Wake and relax to the sounds of wildlife.
For those interested in railroads or Norwegian culture, the Peterson Station Museum is open most days during the summer. The museum doubles as a visitor center. For those interested in railroad history, the museum includes the original train depot with many of the depot's original furnishings!
Take your picture with Ole and Lena in the museum annex where you will also find much about early Norwegian settlers in our valley. John Erickson, the museum curator, has put together an intriguing display of Peterson's lengthy history starting in 1855. No time during your visit in Peterson? You may book a private tour by contacting John at johdar@acegroup.cc or ask for help researching your Norwegian ancestry!
Stop and rest on one of several benches provided for your comfort in our parks, business district, and along the Root River Trail. Take part in one of several music events held at our restored bandstand. Visit during one of our town's celebrations: Gammel Dag Fest and Christmas in Peterson. Learn more about us through our website at www.petersonmn.com.